BIRD, BOTANICAL AND PORTRAIT PAINTINGS IN GOUACHE, WATERCOLOUR, ACRYLIC, INK AND WASH, PENCIL AND PASTEL.
Marlborough Daisy Flower Faerie

Breaking Free

24kt goldpoint and pure silverpoint drawings.

'Compassion' and 'Breaking Free'

The Lace Curtain - Finalist in the 2016 Peters Doig Marlborough Art Awards

!st May - 31st May, Yealand's Estate Marlborough Gallery. 204 High St. Blenheim, NZ

For information on more of my metalpoint drawings email me at: janet@janetemarshall.co.nz

or go to my Facebook page Janet Marshall Metalpoint Art
Just published, the hilarious tale, in poem form, of Sam, the Hat and the Dragon.
$25 plus P&P. Each book is fully illustrated and signed by me.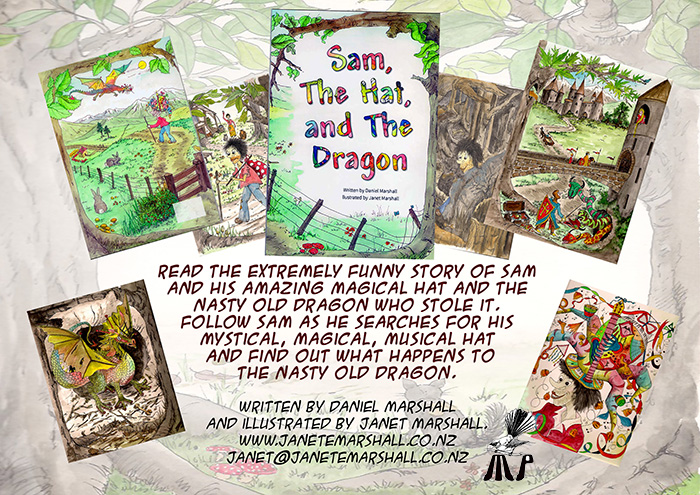 nbsp;

Two new videos of my work are available to watch on utube. JUST CLICK THE LINKS:

White Heron and Huia
'Hooded Girl' series 'EARTH, WATER, FIRE, AIR, SPIRIT' and 'METAMORPHOSIS'
New Botanical works in the Botanical Sales Gallery
New painting of the extinct NZ Haast's Eagle in the Sales Gallery

Read about 'Artists Garden SL Botanicals' on my NEWS page
A large range of A5 frameable cards of many images on this site are now available. See cards