SCROLL DOWN TO FIND THE BIRDS THAT LIKE ALPINE AREAS:
KEA; ROCK WREN; TAKAHE.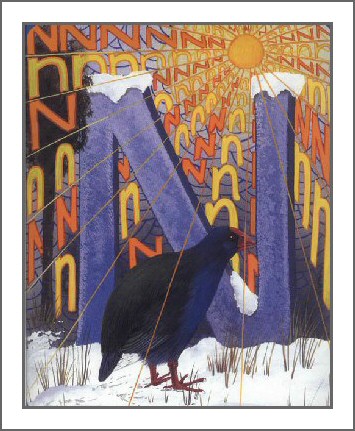 (from K is for KIWI, Reed)
One cold night, when snow clothed the ground, I searched for Notornis, all around. As the moon rose high, the stars shone bright, glowing hundreds of Ns, through the dark, damp night. I saw the sillouette of a native tree, as the Ns shone down and covered me. Then, suddenly, from the colourful glow, Notornis came slowly, picking at the snow. I watched from an N as he passed me by, me and Notornis, eye to eye.
KEA / MOUNTAIN PARROT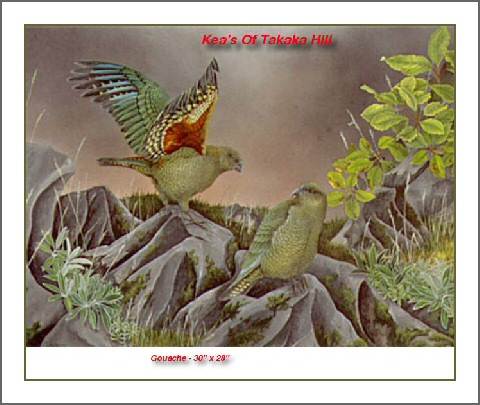 Kea Nestor meridionalis FAMILY: Nestoridae Endemic to NZ. Partially protected. Similar size to Kaka but mainly olive-green with orange on the rump and underwing. Their call is a harsh 'kee-a', called mainly when in flight. Mainly in South Island high country from Marlborough-Nelson to Fiordland, but reaching the coast during Winter in Nelson and Westland. They are most commonly seen above the bushline and also present in native bush. They feed on leaves, roots, buds, fruit, nectar and insects. Breeding is from August to December and the nest is on the ground in crevises or holes in logs, sometimes with leaves and twigs for nesting material. The eggs, 4-7, are white and only the female incubates.
For more information on Kea click on this link


ROCK WREN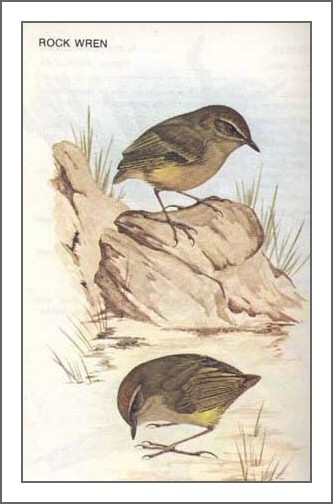 Rock Wren Xenicus gilviventris FAMILY: Xenicidae Endemic and fully protected. Size between Silvereye and House Sparrow with very short tail and very large feet. They rarely fly more than a few yards, with frequent bobbing of the body. They can often be heard underfoot in rock piles. Found only in the South Island from Nelson to Fiordland in alpine and sub-alpine scrubland, on or in rockfalls and crevises. They feed actively on or under ground mainly on spiders and insects. Breeding is from September to November. The nest is a large igloo-shaped structure woven from snow tussock, usually generously lined with feathers. The eggs, 2-5, are white.

NOTORNIS / Takahe
Notornis Notornis mantelli FAMILY: Rallidae Endemic and fully protected. This bird is the largest of the living rails and is considerably larger than the Pukeko, with a massive red beak and short heavy legs. They are flightless and ponderous. Notornis were thought to be extinct until they were rediscovered in 1948 in Fiordland, west of Lake Te Anau. They are now confined to high, alpine, tussock-grassland valleys in Fiordland, and entry into reserved areas is by permit only. They feed on grass, tussock, seeds and insects. Breeding is from October to November and the nest is a bulky structure hidden between clumps of tussock. The eggs, 1-2, are a dull cream with brown and purple blotches.