BLACK BACKED GULL/Karoro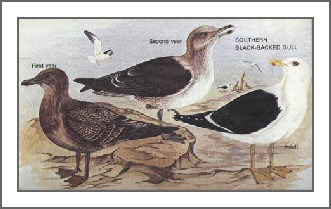 Black backed Gull
Larus dominicanus FAMILY: Laridae
Native, circumpolar in southern temperate to sub-antarctic regions. Not protected. Largest of the three NZ gulls. First year birds a mottled brownish-grey with dark bill. Found throughout NZ on or near the coast, but wandering inland to farmland and even alpine regions. Food comprises any accessible animal food, often entirely by scavenging. Commonly seen in large flocks on dumps, riverbeds and fields. Breeding is from October to December. The nest is a bulky structure of grasses and other plants, often pulled up by the roots. Singly or in large colonies. Eggs, usually 3, vary from light blue to dark olive-brown with black and brown spots and blotches.
BLACK-FRONTED TERN/Tara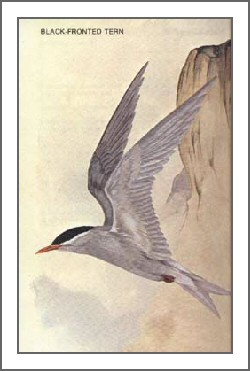 Black-fronted Tern Chilidonias hybrida
FAMILY: Sternidae
Small grey tern. Only breeding in the South Island, inland on shingle riverbeds east of the main ranges. They move to the coast in Winter, small numbers making it to the North Island. Feeds on small fish, water insects and larvae, caterpillars, flying insects and moths. Commonly seen following ploughs during cultivation of fields. Breeds October to January, in a scrape in sand or shingle, in loose colonies, sometimes with Black-billed Gulls. Eggs, 1-3, vary from dark stone to brown with large light and dark brown blotches all over.
CASPIAN TERN/Taranui
Caspian Tern
Hydroprogne caspia FAMILY: Sternidae
Native and also found throughout the world in temperate and tropical zone. Fully protected. Found in the North and South Islands but more plentiful in the north. They are usually seen singly or in pairs along coastal estuaries and inland along rivers. They feed on small fish by plunge diving. Breeding is from September to January the nest being a scrape in the sand or shingle on shingle banks, sandy beaches and dunes, usually in colonies. Some isolated nests can be found on rocky promontories or inland near fresh-water lakes. The eggs, 1-3, are light stone colour with dark brown blotches and spots.

FAIRY AND LITTLE TERNS
Fairy Tern Sterna nereis FAMILY: Sternidae
Native and also found in New Caledonia and Australia. Fully protected. Breeding plumage has a black eye-stripe reaching half way between the eye and bill, forehead white. The bill and feet are yellow. Very rare and confined to North Auckland on sandy beaches where they suffer from disturbance by beach buggies etc. They feed on small fish. Breeding is from November to January and the nest is a scrape in the ground. The eggs, 2, are light buff spotted with dark brown and black.
Little Tern Sterna albifrons FAMILY: Sternidae Migrant with several sub-species circumpolar in temperate and tropical regions of the Northern Hemisphere, also SE Asia and Australia. Fully protected. Same size as the Fairy Tern. The breeding plumage has an eye-stripe reaching the base of the bill. Bill is yellow with a black tip. The 'non-breeding' plumage is the same as the Fairy Tern
Little Tern are rare but can be seen from October to June throughout the country, more common in the north. Seen in bays and estuaries and along open sandy shores. They feed on small fish and crustacea. They breed in the Northern Hemisphere from May to June, in Australia from August to December. The nest is a scrape in sand or shingle, in loose colonies. The eggs, 2, are pale fawn-grey, blotched with brown and black.
GREY TERNLET
Grey Ternlet Procelsterna cerulea FAMILY: Sternidae Native with various sub-species on tropical and temperate Pacific islands. Fully protected. Smaller than White-fronted Tern with black bill and legs. Feeds by dipping the surface of the water while in flight, or hovering. Short, slightly forked tail. They are seen mainly in flocks, but rarely seen close to mainland shores and the Hauraki Gulf. They breed on Kermadec Islands and Volkner Rocks near White Island, on rocky islets, in crevises and under cover. They feed on marine invertebrates. Breeding is from August to December. They nest on bare ground under cover of rocks, vegetation, or small niches and crevises in cliffs. The egg, 1, is light creamy-buff with reddish-brown spots and blotches all over.
RED-BILLED GULL/Tarapunga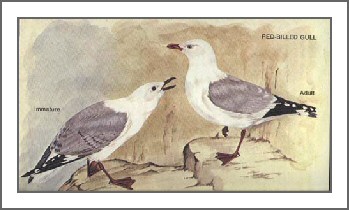 Red-billed Gull
Larus novaehollandiae FAMILY: Laridae
Native, also found in Australia and Sth Africa. Fully protected. Found throughout NZ on coasts and off-shore islands, sometimes inland and often in large flocks. Feeds on crustacea, small fish, worms, berries and scavenged dead animal matter. Breeding is from October to December.
The nest is of seaweed, grasses and ice plant, in close colonies from a few to thousands of birds, on islands, rocky headlands, beaches and cliffs. The eggs, 2-3, are variable grey to brown with light and dark blotches all over.

BLACK-BILLED GULL/Tarapunga
Black-billed Gull Larus bulleri
FAMILY: Laridae
Endemic and fully protected. Breeding mainly in the Sth Island on large shingle river beds. They are uncommon in the Nth Island but there are regular colonies at Rotorua, Poverty Bay and Hawke's Bay.
After breeding birds move to the coast with a northward movement across Cook Strait. They feed on aquatic and land insects and they are often seen in freshly ploughed fields and scavenging in towns during Winter.
Breeding is from October to December, with nests of plant matter and grasses, in tight colonies. Eggs, 2-3, are similar to the Red-Billed Gull, but lighter in colour.
WHITE-FRONTED TERN/Tara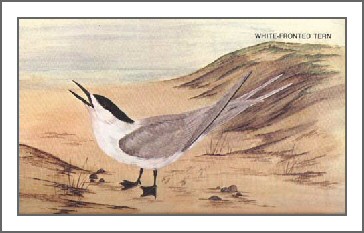 White-fronted Tern Sterna striata
FAMILY: Sternidae
Endemic and fully protected. Size between the Caspian and Black-fronted Terns, with deeply forked light grey tail, large black cap and white stripe on the forehead. Young birds have a mottled cap with the back and wings barred with black stripes. Found throughout NZ mainly on the coast. Many juveniles cross the Tasman and spend at least their first winter on the East Australian coast. They feed mainly on shoaling small fish by plunge diving from the air. Breeding is from October to January, and nest on bare rock or a scrape in sand or shingle, sometimes of grasses, twigs and ice-plant. They are seen in colonies of a few to several hundred and are often associated with Red-billed Gulls. The eggs, 1-2, are variable light stone, green or brown with small scattered dark and light brown blotches.
WHITE-WINGED BLACK TERN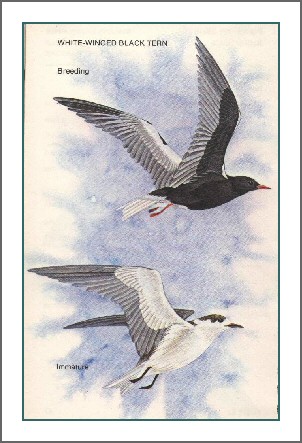 White-winged Black Tern
Chlidonias leucopterus FAMILY: Sternidae
A visitor from Central Europe and Central Asia. Fully protected. Same size as Black-fronted Tern and both breeding and immature (non-breeding) birds can be seen at any time of year. These birds hawk for insects low above standing water and flooded paddocks. They are very rare but may be seen throughout both islands on coastal lagoons, marshes and estuaries and inland over standing water. There was an unsuccessful attempt to breed them in South Canterbury early in 1974. They breed from May to July in the Northern Hemisphere. The nest is usually large and floating, made of reeds and grasses set in sparse vegetation. The eggs, 2-3, are pale brown with darker blotches.

NEW ZEALAND DOTTEREL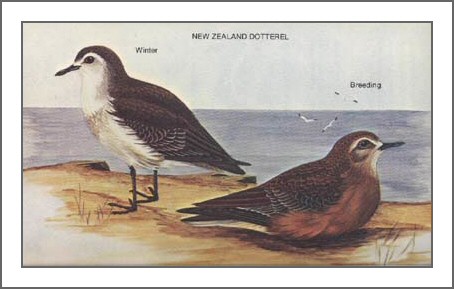 New Zealand Dotterel Charadrius obscurus
FAMILY: Charadridae
Larger and higher than the Banded Dotterel. The breeding plumage is a rich rusty-fawn with the male more colourful and the female lighter. Small flocks can be seen in late Summer. They are very tame birds, but will perform a 'broken wing' distraction display in the breeding season. These birds are rare and localised. There are two separate continuous populations; one in the South Island on the Southland coast and Stewart Island, and one in the North Island from North Cape south to Kawhia and East Cape. They are found on sandy and shelly beaches or dunes by the ocean or estuaries, and grassy paddocks near the sea in Winter. They breed up to 600mt on Stewart Island and feed on small shellfish, insects and crustacea. Breeding is from August to February and the nest is a scrape in sand or shingle, or among low vegetation, on Stewart Island. The eggs, 3, are buff or olive, heavily blotched with black or brown.