WAXEYE/Tauhou Zosterops lateralis
FAMILY: Zosteropidae
Native, self introduced from Australia in the mid-1800s. Partially protected. This little insect eater, with it's white eye ring, is most obvious in Winter when it moves in flocks through gardens and parks throughout NZ. They feed on insects, nectar, berries and fruit. Breeding occurs from August to February with more than one clutch per season. The nest is a flimsy structure of fine grasses and fibres attached like a hammock with spiders' web to twigs or leaves in outermost foliage. The eggs, 3-4 are clear pale blue, and can often be seen through the walls of the nest.

FANTAIL / Piwakawaka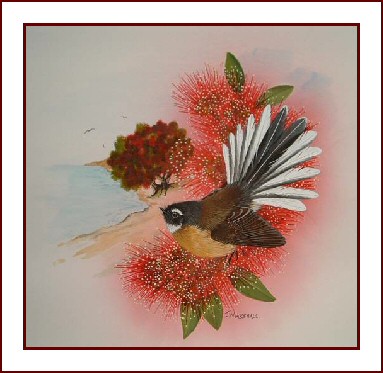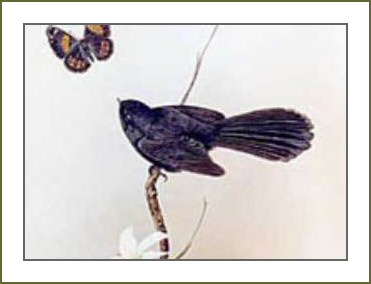 FANTAIL/Piwakawaka Rhipidura fuliginosa
FAMILY: Muscicapidae
A native of NZ the Fantail is also found in Australia and the Pacific with 3 closely related sub-species in NZ. Fully protected.There are 2 colour phases, black and pied, the black phase being rare in the North Island. Found throughout NZ they are common in any habitat with trees and shrubs. They are often seen in small flocks or family groups feeding on insects, especially by 'hawking' (catching the insects in flight). Breeding is from August to January and more than one brood is raised. The nest is a small firm cup of fibres, moss, bark and hair, coated with spiders web, with a neat fine fibre lining, 1.5 -3mts from the ground and usually on a slender branch or horizontal fork, sometimes above water. They often have loose material hanging from the bottom forming a 'beard'. The eggs, 3-4, are white with grey and brown spots, more dense at the larger end.
WELCOME SWALLOW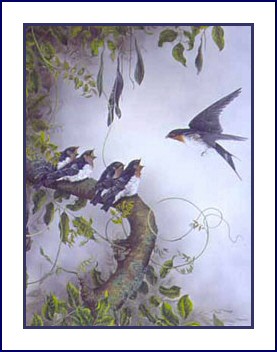 WELCOME SWALLOW Hirundo tahitica
FAMILY: Hirundinidae
Also in the SW Pacific and Australia, the Swallow was a rare straggler to NZ prior to the 1950's, and has rapidly spread. It is fully protected. The strong forked tail and swift erratic flight make it easily identifiable. Found throughout both islands in open country close to water. Swallows gather in flocks during the Autumn and Winter and can often be seen perching on wires and bare branches. Feeding occurs on the wing, catching small flying insects, often above open water. Nesting is from September to February, and more than one brood is raised in the same nest. This is composed of mud pellets reinforced with grass, and is a shallow cup lined with feathers, mainly under bridges and old farm buildings. The eggs, 3-5, are white, freckled with chestnut spots.

YELLOW HAMMER & CIRL BUNTING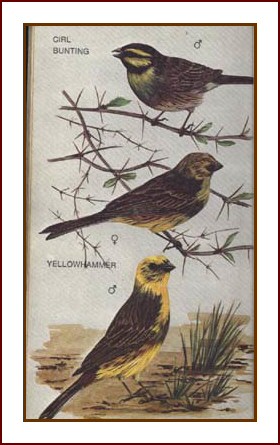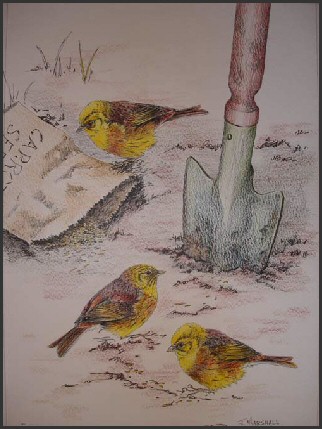 yellowhammer
YELLOWHAMMER Emberiza citrinella
FAMILY: Emberizidae
Introduced from Europe in the 1860s. Not protected. Yellow hammers are found throughout NZ, mainly in open country to alpine tussock. They feed on seeds and insects and form large flocks in Winter and Spring. Breeding is from October to January and the nest is generally close to the ground in scrub, hedges, fern, gorse etc. It is made of grasses lined with finer grass and hair, and the eggs, 3-5, pink to purplish white, are erratically patterned with finely pencilled dark lines, which gave the bird the old fashioned name of 'scribbling lark'.
CIRL BUNTING Emberiza cirlius
FAMILY: Emberizidae
Introduced from Europe in the 1870s, the Cirl Bunting is not protected. Similar to the Yellowhammer, the male has a prominent black throat and eye strip. The female does not have the chestnut rump associated with both species. They are found mainly on the East coast of the South Island and rare in the North Island. Habitat and breeding is similar to the Yellowhammer, but the eggs have less prominent markings.

BLACKBIRD